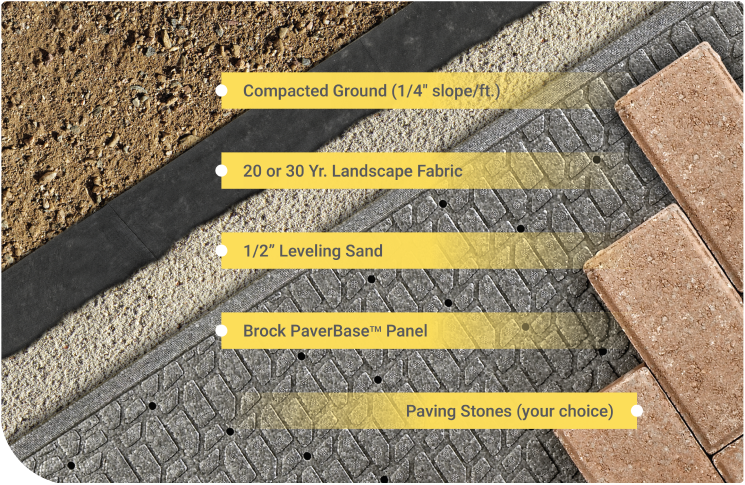 Brock PaverBase
thanks you
for your interest in using our panels for your project
Our website will provide you with all the information you will need to plan, how to prepare your base and complete your project. Whether this is your first time attempting a project, or you are a seasoned DIY'er, installer or contractor, our install guides will show you how to complete your home project.
Brock PaverBase Panels / JSP
Environmentally safe material is made of high grade expanded polypropylene.
The PaverBase panels will not harm the ground, plants or any anything that is eco friendly
Easier, Faster, Lighter, less work and Best Way to do your project base
Use for all patios and walkways (not for driveways)
Since 2010, Brock PaverBase has been used by DIY'ers, contractors and installers of all ages – from younger kids to people in their 80's
The project base – the most important step for all long lasting projects
Applications: Use with patio stones, pavers, porcelain tiles, natural flagstone – different thickness stones, athletic courts (basketball, pickleball, tennis, bocci ball), artificial turf, rubber matts, sheds, deck tiles and more.
Need help? Have a question?
Hello, I'm Tim Newton – Call me anytime with questions or to discuss your PaverBase project: 813-431-8259.