Testimonials
Hear from satisfied customers just like you who are using PaverBase Panels for their projects.
In particular concerning the Paverbase panels, I could not be happier. I am so happy that we used them in constructing the paver patio. Following the completion of the patio itself, which was done first prior to the pergola build, we experienced a severe drought in our area. I haven't seen cracks in the ground like this for a long time. I was afraid the patio would be compromised with the ground shrinkage as bad as it was. The pavers were locked in using polymeric locking sand but cracks between pavers still appeared. That said, the entire patio remained perfectly flat and true to grade. I'm sure this result is because we used the Brock panels. Over this winter season we acquired some much needed moisture, the cracks in the ground and between the pavers closed up, and everything is still tried and true. Anyway, just wanted to reiterate that we think you have an awesome product here and we recommend them to anyone for use on their projects.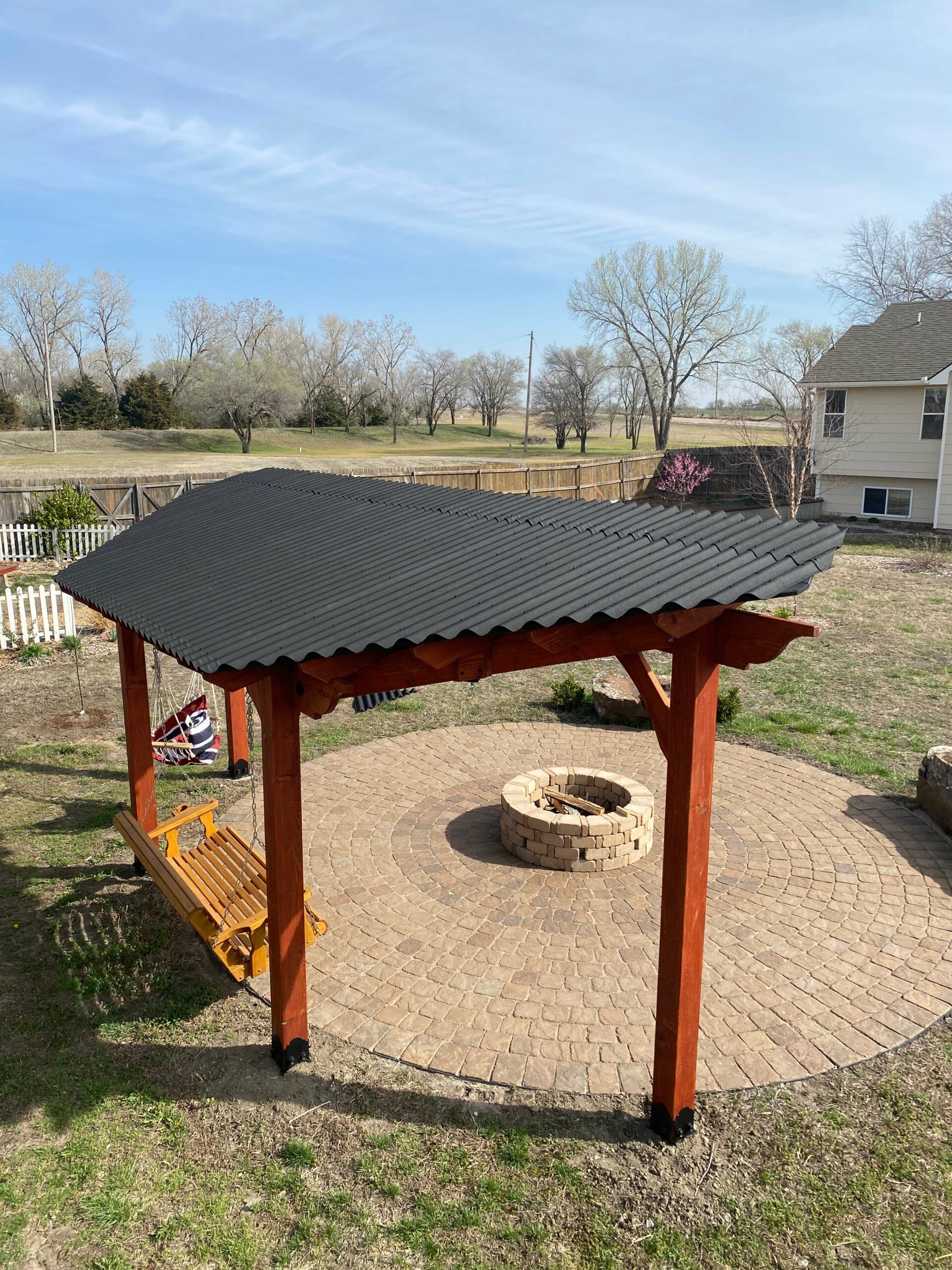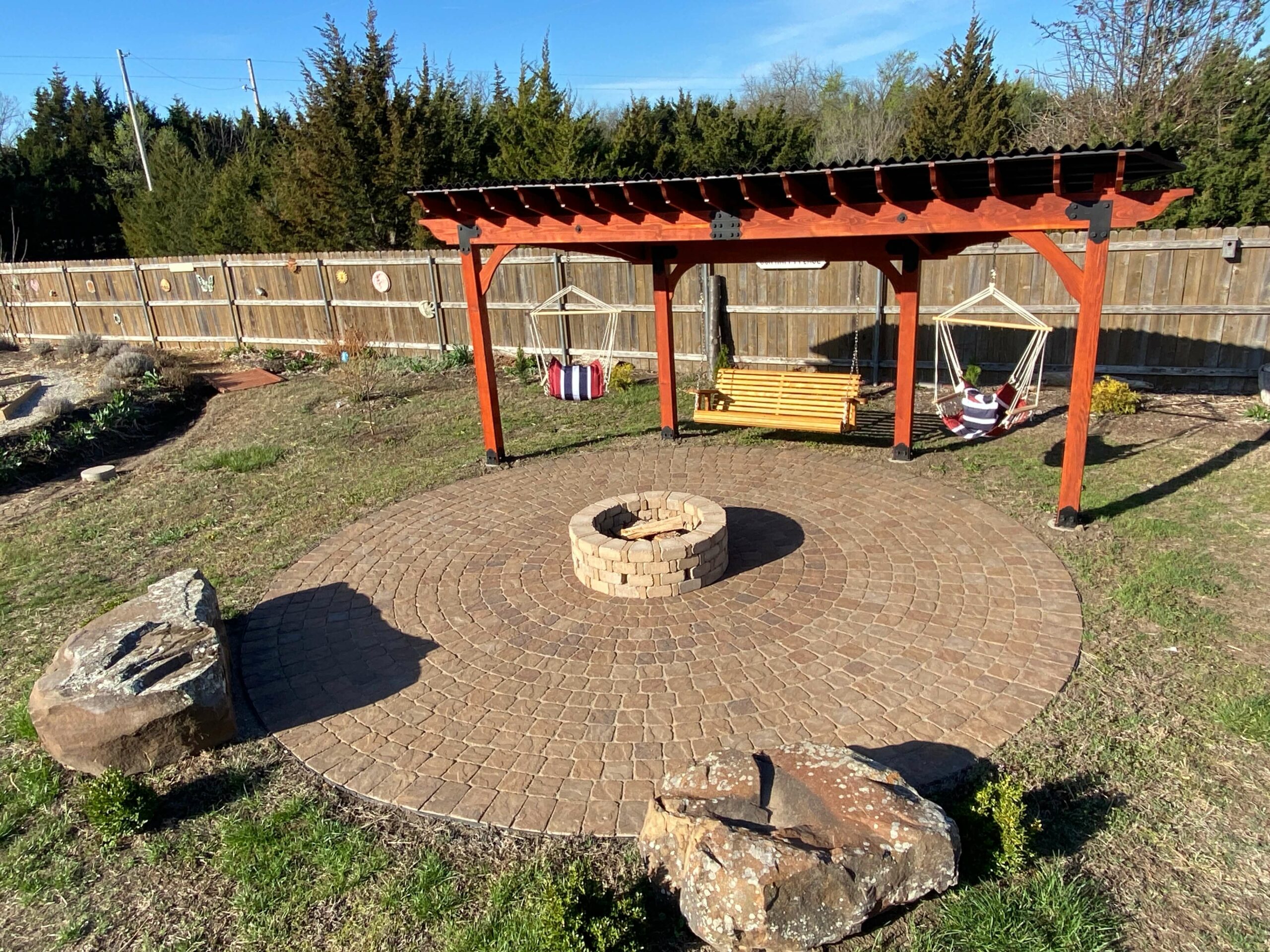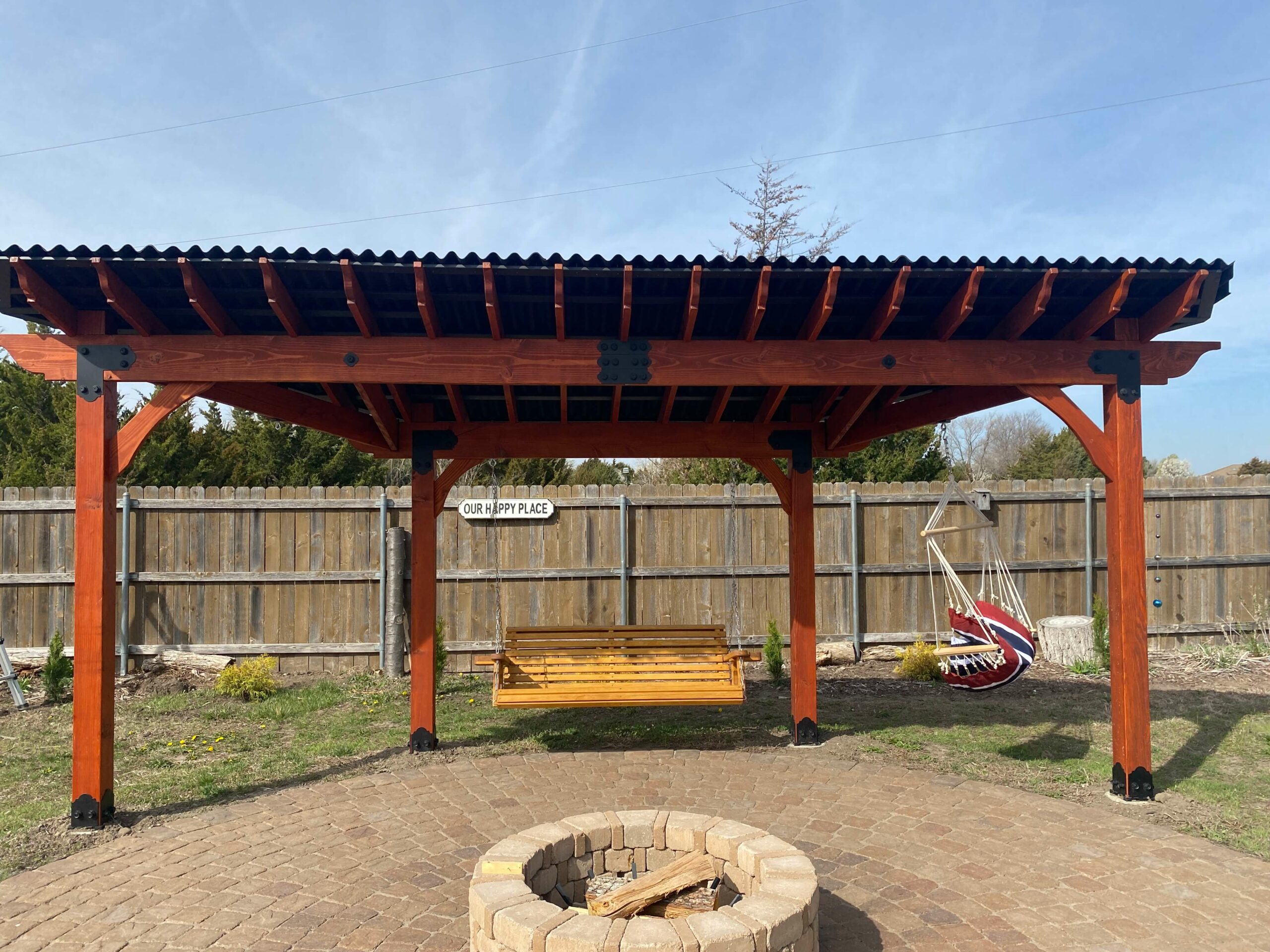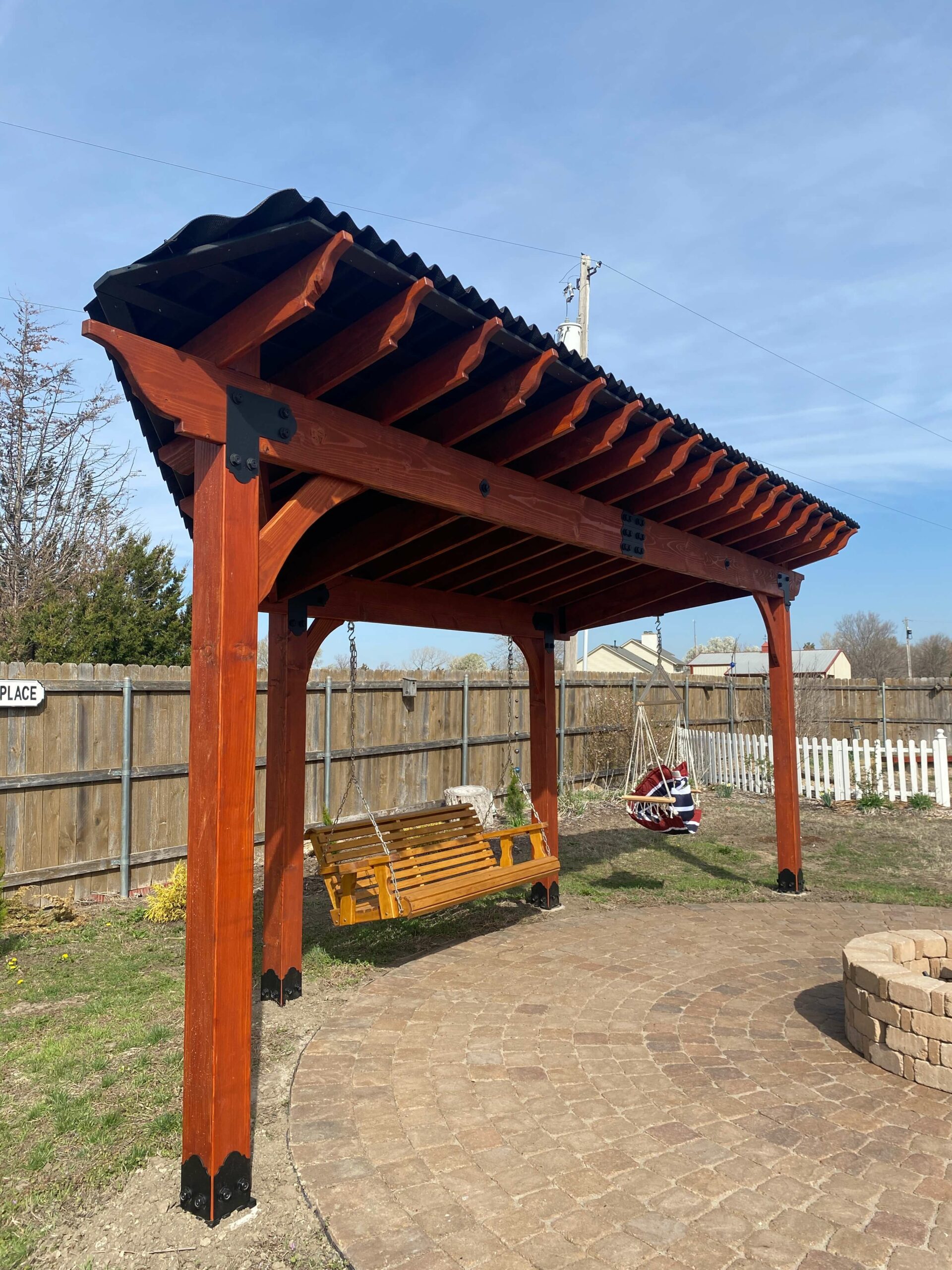 Worked well for my backyard patio

I re-did my backyard patio last summer as poor gutters and neglect from previous owners had led to lots of unevenness to my old stone patio. I don't know how much effort or cost these saved me in the end, but I'm doing a walkway this summer and using them again. Once I got in a rhythm these were pretty easy to work with. Just level the soil pretty reasonably (I used a manual compactor), then line up some rods and fill the area in between with sand and level with a 2×4, and finally lay these before adding the pavers and joint sand.
Multipurpose efficient genius panel

Time and work saving very clever product. Effective weed barrier as well. Also works as a solid base for rain barrel.
Yes yes yes!

These were the best decision I made in my whole project. They were easy to use and cut as needed, they gave a strong level base for my pavers, and covered a few mistakes I made. They even helped level the sand a bit more. My walkway feels very stable. I would buy these again in a heartbeat.
Fantastic product!

Totally lives up to its claims of being easy to work with and durable. They're tremendously cost-effective compared to paver base. They cut and shape better than anticipated. I'll never go back to paver base.
Work as advertised

Work as advertised………pavers down for a year and still holding up well…..no shifting or cracking while being exposed to snow and rain. I am satisfied with this product.
Walk way base

I read on YouTube on how to build a walkway using this product, I was able to build it – I am a 70 year old woman.
Great product and time saver

this product allowed me to not destroy my grass with heavy machinery. I used about 90 of these to build my paver patio. I absolutely love how it came out and it wouldn't have been possible without this time saver. No digging down 6-8 inches, no filling in those 6-8 inches with gravel.
Hot Tub
Thank you so much for the very quick response and my apologies for my delay in getting back to you to express my gratitude.  Yours has got to rank as one of the best responses I've received for a question like this. I took to heart everything you stated and shared it with my wife (she keeps me on track).  No need for a follow up conversation as your response was perfect!  I had filled in the hole and was concerned as after removing the stump the dirt filled back up to the same level, which meant there was no compacting underneath.  My wife was on it per your instructions (thank goodness) and said…"Dig it up."  We quickly found you were 100% right, and we are in the process of refilling 2 inches at a time and tamping…BIG difference!
The tub is supported at the perimeter and in the center where the bottom meets the plywood.  After refilling we'll be adding a small layer of crushed base for a little extra support, then installing Brock PaverBase following instructions.  The tub has been in place for about 3 years with no problem, but we'll be repositioning it over the previously sunken area for aesthetics, so this is a lucky break that the sink occurred before we moved it.  The pavers are rated for vehicle traffic so no problem there.  The repaired area will be the most solid point of the entire patio. Again, your quick and thorough response helped us to get moving with confidence knowing we chose the right product and proper installation.  Truly excellent customer experience, and my reviews of your product and service will reflect that.  If you have any preference for review applications just let me know and I'll be happy to comply.  Home Depot and Lowes will both get 5-star ratings as I've purchased from both of them.  This is our fourth project with Brock PaverBase and will not be our last…it's all we use now!
Multipurpose efficient genius panel
Time and work saving very clever product. Effective weed barrier as well. Also works as a solid base for rain barrel.
Yes yes yes
These were the best decision I made in my whole project. They were easy to use and cut as needed, they gave a strong level base for my pavers, and covered a few mistakes I made. They even helped level the sand a bit more. My walkway feels very stable. I would buy these again in a heartbeat.
Fantastic product!
Totally lives up to its claims of being easy to work with and durable. They're tremensously cost-effective compared to pver base. They cut and shape better than anticipated. I'll never go back to paver base.
Work as advertised
Pavers down for a year and still holding up well…..no shifting or cracking while being exposed to snow and rain. I am satisfied with this product
Walk way base
I read on u tube on how to build a walkway using this product, I was able to build it- I am a 70 year old woman
Good work makes a great patio
I have read a number of the reviews on these and after using them about 3 years ago to install my own patio, I feel I can give a comprehensive review. Allow me to debunk many of the complaints based on my experience. "Cold Climates": I live in an area that gets the highest snow fall in the country or close to it every year and has some of the coldest weather as well. I have not experienced "heaving" of stones or any other problems like that. "Everything MUST be precisely level": well yes, for the most part everything should be generally level but with that said there is room for error. The instructions for this product (which are available on this site via a link) clearly note the need for an additional layer of sand on top of the pads to avoid this problem. "Expensive": I did the math and can tell you that if you are building a patio using the traditional method, this is by far a cheaper option when you factor in time saved and the additional cost associated with base materials. In addition, I have found that this product eliminates the issues associated with the base material settling or washing out since the panels remove the need for a lot of it. So, there are no sunken stones or other issues after a couple years. In short, the expense of the pads is clearly offset by the lack of need for additional material and the time you save on the job. After 3 years, my patio looks great and many first-time visitors assume it was done recently. Take the time to read the instructions and install it properly or you will have issues over years that could have been solved by spending a few more minutes on the install. FYI, I am now extending the patio and using them again.
Good solution to sand and base however …
They are very light weight and as such can be a pain to work with if you have to stand or kneel on them while laying the pavers. My walkway was in a tight space so I had no choice but to have to kneel on them while laying the pavers. I found that they moved around a lot. My solution was to use 2 weed barrier spikes on every joint to get them to stay put while I laid the walkway. They are a little spongy too when I walk on them but not bad. Then again Im a big boy, just about everything feels spongy to me :). Time for some Polymeric sand to finish the job and its good to go!
Loved the paver pad
I've never layed a brick patio but thought I would try these. With some sand, the paver pads, bricks, and a level it was easy and I'm proud of our patio. I would say it was a breeze but I'm so sore from all the work I did!! But it was easy enough that I them to friends. In fact we went back to buy some more and our Lowes was sold out. I had bought enough to finish the job but I wanted to do another small area because it was so easy. Easy enough for me.
Great product, saved me a lot of work, very happy
My husband and I decided to use the panels and have to say we are really happy we did and the patio looks great. Our patio is 12×18 we used 2 size pavers. The hardest part was compacting and leveling the ground. I had a few questions that the Lowe's person didn't know but took the time to Brock and get the answers for me. They transferred the call to a sales rep named Tim and he helped me with my questions. He also told me how to calculate the sand and suggested that I use stagreen lifetime fabric. What great customer service! It's was still a lot of work laying pavers, but being able to walk on these and slide pavers to do pattern made it fun.
Great product
A very easy product to work with. I used it for a project that was two different widths. Part of it was two foot wide and another part was 32 inches wide. The 2 foot wide area I just place them end to end. On the 32 inch part the panels were easily cut with a utility knife along a straight edge. The panels are light weight but strong and made a great base. No wobble in the pavers.
Easy to expand my patio!!
My project was to cover a concrete slab and expand the patio area over some rocky area we didn't like. The excavation of the rocky stuff was the hardest part, but sadly unavoidable. Because the rock was so deep, we used a "crusher fines" material to get back to the right level. We could level it and it was more stable than sand. Then we used the Brock PaverBase to bridge between the concrete slab and the crusher fines, and used it over the whole old rocky area. We used Brock over the slab because we wanted to raise the level of the patio to meet the door jams of the house. A couple of things about the Brock system. One, it was really nice to be able to slide the pavers into place. And if you get out of line, you can whack sections back to straight with a rubber mallet. It's also nicer to kneel on than stone, so I didn't have to use kneepads the whole time. And we could bring the pavers right to where we needed them, and walk all over the area without disturbing anything. The panels themselves are not cheap, but as the packaging says, if you do the math, they are about the same as using traditional base, and a whole lot lighter. They do cut easily, so you can fit them tightly around things like staircases and such. We did use the polymeric sand, and just walking around the pavers during sweeping let's the sand fill in the gaps, and once it hardened, the whole patio is rock solid. One thing I did notice is that you need to check the height of your edging to the height of your pavers. Because the edging get's anchored through the panels, if your pavers are thin, the edging will be too tall. We used a 1 ¾" paver and the plastic edging came to the height of the paver, so you can see it a little, but I am ok with that. Overall, the product was well worth the money and it did deliver on its promises.
Great for DIYers and for those with limited access
My condo has limited access to the backyard area, making it impossible to pour an extension to my pre-existing concrete patio slab. It would also be difficult to get the ton of fill material required for a traditional paver patio around to the back. Because of this, these Paver Base Panels were the perfect solution for my DIY project! Pairing them with the 16 inch Allegheny Four-Cobble Concrete Patio Stones (also bought at Lowe's) and several bags of sand, I was able to create a beautiful extended patio with minimal labor. The Paver Base Panels were easy to work with, and the finished project looks amazing – it seems to be every bit as stable a base as the traditional multiple deep layers of gravel and sand would have created. After 3 months, the patio seems to be settled and level (note: since I used the 4-part cobblestone pavers, I will admit that any imperfections in my leveling ability have been camouflaged quite well.) I highly recommend them – the cost is worth it to be able to have the patio turn out as well as it has within my location limitations and personal lack of skill!
Worth it
These ain't cheap, but they're totally worth it. Save yourself the time and effort of spreading gravel base and buy these panels. I built a 19×16 patio in about 10 hours. Can't imagine how long it would have been if i had had to spread gravel, too. What I loved about these is i was able to build it as I went… meaning, after I prepped the site, i spread the leveling sand in rows, then placed the panels down, then the pavers. Doing it this way, i was able to visually see where the panels locked together to verify the leveling. Patio is about a month old now and everything is working great. No major settling.
Great Stability for Paving Stones
These paving stone pads do a terrific job in smoothing terrain beneath paving stone projects. I initially purchased pads for use in constructing a paving stones elevated stepping area project on my patio. The pads provide excellent stability for the paving stones. The interlocking feature is helpful, and the fact that the pads are 2′ x 3′ makes it a cinch to measure the area needed for a project. Also, when I needed a solution for placing my steamer trunk inside my home, I had been so pleased working with the paving pads, I decided to purchase an additional 2′ x 3′ pad. I placed the pad on my flooring, and placed the steamer trunk on the pad. I am delighted that both the flooring and the steamer trunk are now protected by the cushioning available by using the pad between them.
Great product – saved Tons of work!
Just finished our 200+ sf patio and these panels worked great. Here's a few tips: – Brock recommends installing on a 1/2″ sand bed. I used 4′ lengths of 3/8″ rebar with a 5′ screed to get the suggested 1/2″ depth. Smoothed the leveling sand with a 14″ float trowel for a uniform surface. – I adjusted a few low spots by using a straight 8′ 2×4 to check overall level and added sand under a few panels prior to laying clay brick pavers (Glen Gery 53-DD). A bit more work to ensure best results. – extend the layout of your Brock panels 6″ around your perimeter to support your edging which should be anchored thru the panels. – I used landscape fabric pins to interlock all the panels together and used 1 pin in the center of each panel to further anchor. Overall result was no lateral shifting of panels and no spring or give, when walking on. – I laid the brick pavers directly on the panels and had to add sand underneath a few pavers to get a level surface. It took a lot of passes to hand compacting Mason sand into the joints. Spread the Mason sand out in a thin layer on the brick surface and allow to dry before sweeping into joints for best results. Would consider setting clay brick pavers (or any stone with naturally varying thickness) in a 1/2″ bed of leveling sand added on top of the Brock panels, if doing again. Easier to level patio surface and less sand work to complete. – I used 1/4″ per foot slope (4″ over 16′) which seems like alot but is undetectable. We've had a couple drenching storms and drainage through the pavers and Brock panels has been great. No standing water. Overall, these panels saved Tons of work and would definitely use again. Good luck with your project and hope this helps.
It's easy to use
I replaced a walkway with patio stones using this product as a base. It replaced tons of rock base and left a smooth surface on which to lay out the stones. It appears to be expensive, but when you consider what crushed rock and transportation costs involved, it's comparable. It provides a stable walkway that turned out beautiful.
Labor saver
These panels saved us many hours of digging, and laying pavers. 10/10 would use them again.
Awesome alternative
These work great! I live in a center unit town house and did not want to lug 6-8 tons of gravel around my neighbors house and up a hill to get to my backyard. I used them to build a 22 x 10ish patio off of the existing concrete patio. They go down as easy as you would expect, just lay them on top of the compacted level sand and the bricks on top of the paverbase and your set! I will update this review if i find any issues with the product in the future.
Saves Time and Back Aches
As a licensed custom home builder, I first installed these Brock Paver Lock Bases 3 years ago when adding a 10′ x10′ brick patio and 55′ brick sidewalk on to my own home. I wanted to give these babies a try before selling the idea to my clients. I was amazed at the time and money this method saved me on laying brick/stone. I've gotten all kinds of weather and they have held up fine. No upheaving! I just removed sod, leveled area with 1″ to 3″ of builder's sand and topped off with the Brock Bases; I was able to lay both the patio and the sidewalk in three days! Hubby hauled bricks as I laid them and cut bricks as I marked them for curves and such. I even posted a YT video showing how I did this. I locked bricks with polymeric sand and washed off well (to keep from turning tops of brick white). The weather has dropped down into the minus 30* temps and so far, so good! Heavier folks (over 230 lbs) do notice some 'give' or cushion-like movement, but I don't feel it. Even so, no cracks or movements of actual bricks has taken place. I liked these so much and they were so easy to use, I added another 18′ sidewalk to my house last summer and used four under some remnant brick under my trash fence area and also under another patio/office area. So far, perfect! No slide offs, no wash outs…etc… I'm happy! It gave the 'antique' brick look I have longed for. Today, I'm off to Lowes to buy another 26 pads to lay my last patio and walkway to my English gardens/waterfalls area of yard. Hint: Use the side straps to keep from knocking out when mowing along edge of bricks; they do sell these now. They did not sell the edge forms when I first started using Brocks. Also, level area when removing sod with sand or compacted stone. And lay/ level each pad individually as you go along. Don't lay down all pads and then lay bricks…lay one long row/ section at a time to keep level and from sagging in your footsteps. Use one pad to kneel on; saves the knees! Cut pads with a sharp blade. Run any electric or plumbing to ponds/fountains…etc… in conduit BEFORE you lay the paver base stone/sand. BTW–I would have made about $2800 for the first project alone doing it as a professional for a client; my total cost (bricks were expensive plus brick delivery cost) was about $840 half that cost being the Brock Paver Bases. So, I basically saved on labor cost doing this myself and a bit on the stone base material that I would have had to buy from the stone quarry up the road. So, in final, we saved around $2K doing the first sidewalk and patio ourselves. Using cheaper bricks/stones from Lowes, we would have saved even more!! Also, we are military so we saved an additional 10% on our Brock/brick/stone/sand purchases. So, use that military member appreciation discount and save even more on your projects with Lowes!!
Excellent for DIY for paver paths
We planned to completely redo a 4 ft wide by 75 ft long paved path in our backyard since we didn't do a good job the 1st time 10 yrs ago. On researching what was the best way to do it correctly I found these interlocking paver base panels at Lowes. After reading the many reviews we decided to buy & use them. They are excellent to use in every way. Gives a stable & straight line for laying the pavers & easy to cut if needed to do so. Replaces using the weed cloth. They worked so well on the redo that we decided to lay a 2 ft paver path from the back steps the whole way around to the side of the house. The only complaint I saw in the reviews is why they cost so much which is my same complaint. They are made out of lightweight type material that couldn't cost much to make. Cost per panel needs to be reduced by the manufacturer or Lowes if they have marked them so high. But we bit the bullet & bought them because our work was so much easier, faster, & looks very professional. Even buying these paver bases & paver base stones & additional pavers we still saved about $1,000 from what a contractor was going to charge us for just the back redo. Also, if you need a large amount of them as we did I had to order online at Lowes & received free shipping directly to the house.
So much easier!
We had planned to install our patio the standard way and were preparing to haul all the gravel needed, then we saw these at Lowe's. After some research we decided to take a chance and they were SO EASY! Head and shoulders above installing gravel. They are pricey but we thought they were worth every penny. We live in Alaska so we'll see how these survive the winter, but the ease of installation and our research made it a risk worth taking. They feel very sturdy under the pavers, no movement at all upon initial installation and setting.
Landscaping 101
This was an essential piece for my project, not only did it lower the overall price of the project it sped up the process by at least 2 hours… it will also help prevent weeds and grass from growing up on the rocks. Over all it was very easy and cheap to install..
So good I'm going back for seconds
I'm actually getting ready to use these for a second job at my house and checked online to see if my local store had them in stock and can't believe some of the problems people are having. I put our first patio in two years ago when the product was first introduced to Lowe's. That patio has now been threw two cold winters, hurricane Sandy , and the floods the northeast saw the year before that, and even with 2" of water rushing across the top of it, and temperatures dropping to 0-10 degrees, it looks like the day I finished. I did spend a lot of time on the phone with one of their techs before my install to make sure I understood exactly what I was doing. It seemed the devil was in the detail. He explained it was paramount that you compact the soil under the patio to prevent any of the movement that some people seem to be stating. He also explained a method of using conduit and a 2×4 to create a perfect sand layer to put the Brock panels on. My wife, my patents and I spent about 10 hours laying over 400 feet worth of stones and it has performed flawlessly. I would guess the problems are in the installation not the product. Currently I am getting ready to put in a 10×20 patio that is right off our deck to give us more room for family gatherings. I will be using the Brock again and would highly recommend it to anyone that has a project in the works. I would also recommend that if you have any questions call them. The gentleman they put me in contact with was very knowledgeable and even took the time to answer the 3 separate calls I made to him. A+ on customer service. Happy building all.
Definitely worth it for DIY-er
I just finished installing about 280sqft of paver using this paver base by myself. I must say this product definitely help with the project in a few positive ways: 1. Just to be doubly cautious, I added about 2″ of road base on top of the current compacted soil. I never imagine digging that extra 2″ of soil was a lot of work. I can't imagine if I have to dig 4″-6″ of soil if I don't use this paver base. 2. Laying out the paver on this base is a lot easier than laying out the paver on the sand bed directly. The paver that I bought has 3 sizes (6″x12″, 12″x12″ & 12″x18″) with 2 3/8″ in thickness. They're heavy!! I struggled putting these aligned and had to use rubber mallet to get it perfectly aligned. There's a few cases where I have to remove certain section and rearrange the paver. W/o the paver base, I would've ruined the sand bed. 3. With the paver base, I can step on it. It's generally not to step on the sand bed, but I can step on them with the paver base on top of the sand bed. 4. Support from Brock. The support that I get from Brock has been nothing but exceptional. The guy that I talked to helps with some issues/questions that I encountered during the paver installation, even those that are not related to the base. He even answers questions during the weekend. One minor issues (really minor) I have while installing. I left the paver base on top of the sand bed overnight w/o the paver yet. The next day, the base was a little curled up (I'm guessing because of the heat).
Easy way to create perfect base for pavers
I used Paver Base for a patio area surrounding my rental property. The landlord agreed to cover material costs if I was willing to provide the labor. I followed the instructions by using a small amount of sand to create a level base, installed the Paver Base panels, paver stones and then fixed the pavers with polymeric sand in-between the cracks. I was able convert an ugly dirt area to a perfect finished patio in two days with no help and hardly any tools. I love do-it-yourself projects, but have a bad back. Moving around bags of stone base was not an option. I saw the Paver Base installation video and thought that it was worth a try. One of the best project decisions I've ever made. My wife and I are now in the process of buying a new house and will be using this same system again for a new patio area and a walkway.
Great product, but with a learning curve
Father and I installed a 180 square foot patio at my house. I decided to use these panels instead of the inevitable bags of gravel I'd need otherwise. I was a great decision, saved a ton of time too – once we leveled the sand for the umpteenth time. It is no joke, everything underneath the panel must be flat or these will not line up. Ultimately this is good, because it ensures you're setting your project down right. I recommend this product for anyone.
Creates a good flat surface
This produce helps create a good, flat surface more quickly than trial and error. I mark it down for two reasons. First, the sand beneath it needs to be mostly level or there will be sags and bumps, but the sand is more easily leveled by just moving the panel around a little. Secondly, my project is at an incline, so I ended up putting a thin layer of sand on top to give the stones a little more staying power by pushing sand up between the stones. The same could be done by putting in sand from the top, but my project is taking weeks and I need support now. Overall, an excellent product that does what it claims to do.
Game Changer
Although these are expensive they're actually cheaper than buying the amount of crush and run or paver base. The real bonus is you save your back from carting that much base around. You will need to do a great job of leveling since you won't have as much base to smooth out the grade. Overall they're a great innovation. Now if Lowe's would only keep them in stock!
Amazing time and materials saver! Great for DIY!
This product is awesome–made an intimidating project very achievable for an average DIY person. I had been quoted $5k plus for a simple patio from landscapers and masons. To do it ourselves was less than $1500, and we got it done in one weekend. Using these panels makes it so that we did not have to dig down 6 inches and replace it with paver gravel. Instead, we just dug down 3.5 inches, compacted the soil with a rented plate compactor, added and screeded sand flat using pipes and a level, added these simple foam/plastic panels, and placed our brick pavers in the pattern we wanted. After we added the restraint edging any polymeric sand, the patio feel rock solid! It came out great and one of my better DIY projects so far. I guess time will tell if the product performs as well through freeze/thaw cycles as the "old" method, but if it does then these things are a real game-changer for paver projects!!
Great product
Cut down on the work to dig out compacted clay/rock mix for our new patio (and meant we didn't need to find a way to haul a truckload of excess dirt off our property once we'd redistributed all we could to other areas!). Definitely worth the price. Easy to cut to shape and interlocking edges were easy to overlap yet held together well.
Worth the price!
Used this under an outdoor wooden kayak rack as a base layer. Easy to level and bears weight well. The second layer were large pavers, to get the rack up off of the ground. Having this underneath made it so easy to keep the whole structure level. Pricey, but now that i've Used them I can't Imagine doing paving stones without it.
Lightweight yet durable
It wouldn't be possible for me to haul and lay out dozens of bags of heavy paver base so this product allows me to begin the next phase of my patio. The pavers last nicely on these bases and the bases fit together tight enough to keep weeds out. There are small holes for drainage.
Much easier than the traditional method!
Pavers are thinner than I expected. They are made out of a styrofoam material. Easy to install and work with. Made installation much easier than the traditional method.
Buy these
I purchased enough of these for 500 square feet of patio and walkway. Yes they are expensive (probably cost less than 1 dollar to produce), but they saved back breaking digging and shoveling gravel for this 65 year old. Everything looks great after just one winter, and hopefully will for many more to come. I put landscaping fabric down first, so hopefully I will never see any weeds.
Great Product Less Work Involved in Doing Patio
MY NEW BEST FRIEND IF YOU ARE GOING TO INSTALL PAVERS. SO MUCH EASIER! THUMBS UP! HIGH FIVE!
Solid
Was pretty pumped when I found out about this option. The idea of digging a 6-8" 200sqft hole, moving that dirt (where the hell do I put it?), buying a ton of gravel, etc, seemed like a nightmare. These made the job pretty manageable for two half days during the weekend (I hired 1 person to help me dig hole first day, and two friends helped me day 2). Came out great. People love it. Saved me time, sweat, and money. Good times.
Paver base easy to install
I purchased this product to avoid moving tons of crushed rock and the added pleasure of compacting it. I compacted the soil, used a geo-fabric sand leveling agent then this polypropylene base. The patio looks really great. If the product performs as promised this is a huge time saver and huge weight movement savings.
Quality material; competitive costs; and long life
Easy to handle; easily cut to fit odd corners in landscaped areas and around fountain & pool areas. Great panel to use as undermat for decorative rocks and pea gravel—-helps to minimize ability for grass growth in unwanted areas, yet moisture adequately flows through.
High quality and easy to install
I wasn't sure of using the paver base panel. I thought it could save me time and effort but probably the final result wouldn't be the best. I decided to get them and for my surprise it in fact saved me money and effort but the result was excellent. My pavers have been there almost a year now and they look exactly the same. So I got more paver base panels to lay down more pavers in my patio. I recommend this product.
Not too expensive once you know what it does
These panels were a life saver and saved me money. I thought they were expensive until I saw they replaced 5 bags of base and need less sand. Only had to dig out the grass, couple inches, and compacted the ground level. That was the hard part. Laying the panels was easy. Made it easy to lay the 3 different size pavers too. Messed the pattern up a lot but didn't worry cause I could move it around and fix it.
Great product. Easy to use
I bought the base instead of doing the traditional sand and stone base when I put a sidewalk in using 1X1 pavers 2 summers ago. Much easier than digging deep for sand and stone. The base was super easy to work with and 2 years later the walkway still looks great. No sinking or uneven spots anywhere. I highly recommend this product to anyone planning outdoor paving projects.
3 years and holding great
Installing my patio using this base left me a bit skeptical at first. I leveled the surface to my best ability, yet it is nearly impossible to make the underlying surface absolutely flat. So right after installing the patio some bricks felt a bit wobbly. But over 6 month period the sand under the base self leveled apparently. I poured and swept regular patio sand into the gaps between brick at fall and then again next spring, the bricks completely settled and now the patio feels rock solid. I build my patio 3 years ago, and after three brutal New England winters it does not have any sagging anywhere yet. It holds better than my next door neighbor's who did his patio at the same time as me but "old school", with a lot of excavation, pouring and compacting paver sand, and which already developed some dips and bumps. Also worth mentioning I haven't seen a single sprout of grass all this time, while my neighbors have to fight it regularly. So I feel spending a little extra money on this base was well worth it.
Paver base panel
This was very easy to use, had to cut it in places as the area that I was working with was around a support piling, Cut very easily and provided a nice base for the pavers as well as making it easy to maintain a level base. would definatley use this again.
So much easier and better than old traditional way. Great customer service too!
Patio project installed was 450 sq ft. Took less than 30 minutes to have all the base materials moved to the backyard. (4 boxes panels, 40 bags of paver sand, lanscape fabric rolls) Only had to remove/skim the grass about 2″ to 3″. I rented a plate compactor to make that step easier. After creating the 1/4′ slope, I used a long 2 x 4 on it's side help fix my low spots. I hand tampoed my 1/2″ sand and checked for low spots again before laying panels. So much easier laying 3 size paving stones. Slide into palce and moved if the pattern was off. Easy on the knees too. I would deffinately recommend using this product. Customer servcie was great too. I called to ask a few questions on the weekend and the guy actually answered my call. That is truley amazing these days to be able to speak with a person immediately and on a weekend when I was working on my patio.
Perfect
Just what I needed for my walkway. Highly recommend this product.
Amazing way to save time
These panels save so much time and heavy lifting. While they cost more up front, they save so much down the road. They are stable and reliable and make it easy to set up the pathway or patio. The directions are very easy to understand and follow. Their website is also very helpful.
From a landscape contractor.
We used this product on a paver patio which was hard to get to. If I had machine access to the area I probably would have just used a skid steer and dug it out like normal and used road base as the base. But given that the only way to this area was with wheel barrows down a steep slope, we chose this way. You must have a compacted subgrade. Meaning that you need to excavate but not too much. If you excavate too much then you need to fill it in again and compact it so that you aren't working with disturbed earth. Also note that if the area was disturbed within the past year or two to a great degree then it is best to wait until it settles with the weather. We dug this area out by hand and the soil was very hard, (difficult digging but very good for a base). Then we used a leaf rake to rake any soil particles that weren't hard as a rock out of there. Then we went ahead and filled in the low spots with soil and compacted it with a plate compactor. Then we installed weed barrier (gives a little stability, prevents weeds, and is a barrier between the sand and mother earth). Then we installed sand, as little as possible, 1/2-3/4″ inch. We used a paver sand that gets hard like road base over time. Play sand or beach sand is not what you want. We chose to form the area with 2X4s and screed the sand, that way the final grade was perfect. This was a lot of work but the fight was then over. From that point on you just lay the Brock panels on the sand (carefully, and then the pavers on top of that. We installed polymeric sand in the joints and carefully tamped each paver with a hand tamper (can't use the plate compactor with Brock base) to persuade settling of the polymeric sand. Then watered it and we were done. That patio was perfect. I was impressed with the product. Absolutely no give when walking on it. I went and looked it six months later and it hadn't deteriorated, it was awesome. If you build up the area with gravel then you need to separate the gravel from the sand with a weed barrier. Otherwise when the sand percolates through the gravel it will leave the pavers uneven. It is all in the prep work. Note it is not rated for vehicular traffic although I'm sure that a riding mower or atv would be okay, just nothing heavy.
They work…
Simple to use, fairly forgiving, not inexpensive but acceptable price. Saved my aging back from hauling a lot of stone and sand.
Makes Landscaping Easy
Had a small area where nothing would grow; ideal for finishing off landscaping with pavers. These panels made that job quick and easy. Exceeded expectations. Great way to do an otherwise tedious job!
Saves Time
Easy to install and cut to fit. The edges interlock and fit well.
Perfect fit.
Used 6 of these pads under 12x12x2 blocks to create a landing at the bottom of my front steps. The blocks fit perfectly and created a smooth pad. For DIY, cannot get any easier.
Walkway
I used this for a walkway. It was quick and easy.
Install
Great product! I am a professional installer and have used this installation method for 5 or so years. The only reason for any settling is improper leveling of excavation or sand, subbase compaction and I recommend compaction of sand before laying base pads. Also I use an additional laying bed of concrete sand to ensure proper laying, initial interlock and less polymeric sand. The edging also needs properly installed.
easy to install and stable, would recommend
good solution for un-easy to access area patio and substitute conventional build patio process save time I called manufacture to ensure that I can use this product in Philadelphia. I follow instruction and it work out very nicely stable easy fast to install than lay paver on screed sand, this product
Pavers
Never will I lay paver tiles again without using these interlocking base tiles. Made the work easy
Great so far!
Easy to install, used them last weekend so time will tell. Needed more paver base sand than the instructions advised for our square footage (142 square foot patio required 14+ bags).
Brock 2 Paver Base 1st Install
Bought a total of 25 despite cost (oddly, there is only 17 in a "case"; why, not sure). Installation appeared simple (my case I had to pull up 40, 16×16″ paver blocks and 6×9 edging after a woodchuck burrowed through the 6+" of compacted gravel and 1″ sand from two years ago!! Once everything was back down, there was a noticeable wobble and flex when walking across the 9×16 patio. My wife said "the polymeric sand will bind them together and it will go away". Note to self: list to what the wife says more often! Once I put the polymeric sand down and misted it – the next day – solid as a rock. SO the product does what it claims to do – it goes down very easily (just don't forget the weed barrier!). I went with 4 star only because I want to wait and see how it winters over – Northern NY (30 mile from Canada Norther NY!) and the whole of the property lot is a old farm field and 98% clay. So hopefully I remember to come back next spring and update the results!
Game changer
Last year did a front walkway. The foam paver base made it nice and flat. I still did use a lot of gravel underneath since I have a big melting snow swamp there every year. No shifting or buckling over a year later. This year added a second walkway to connect the first. I was able to connect them well and have the same elevation. I used the thicker, more decorative pavers. Last month I started a 25' walkway on the side of the house. This connects the kitchen to the back deck and yard. Very uneven with drainage. Heavy clay soul that eats gravel and sand but did put a 3" gravel/sand base and use weed block before putting down the foam pavers. Since this is utilitarian and not for show I used the less costly 12×12" red concrete pavers. I used the polymeric sand to "cement" the pavers together and the plastic rails to keep things in place. My local Lowe's was out of the foam pavers for weeks. To get to a stopping spot on that long walkway I had to buy the only one they had at Home Depot. Their paver base is the same stuff but is narrower and was less than 24" the width if my pavers. Not good because the paverdidnt have the base under it for that single panel. I have had a lot of menfolk amazed at how my walkways turned out.
Great for hard to access areas
I used this product to build a patio in a hard to access area. It was perfect and saved on excavation cost and stone. The product was installed as instructed. This is the first time using the product. I would use it again especially with hard to reach areas.
Brock paver mat
Amazing substitute for gravel. Provides a solid base but is lightweight; well engineered.
Easy Peasy
So happy with this purchase. Made our patio installation easy and fast. It's a bit pricey but worth it!!
Patio still perfect after 2 years
Excellent product and easy to use. Just need to dig area out and tamp down . Cover with landscape cloth. Place this product on top and use sand to level.
Saved lots of time using these these.
I loved these. They really saved me a lot of time digging. They were easy to work with and cutting was easy. I used a box cutter to trim excess.
Great product!
My husband and I bought these for a walkway we were making and absolutely love them! It made it so much easier when we put the stones down, and it has kept any kind of weeds, vegetation, etc. from coming up. I would definitely recommend this product if you are doing any kind of walkway or other type of project similar to this.
Great product
The company states that the saving in weight and using less leveler as the main benefit of this product but more that, this product makes laying the stone much easier. Adjusting the stone is much easier as well.
Easy Paver Base
These paver base boards save so much time, backache, eliminating hauling heavy stone.
Paver Base Panel Saved Me
This paver base panel saved my relationship! I decided that we needed to extend our patio. We lost most of the trees around our house during Florence, so I thought it was an amazing idea to have a little spot just out our door for morning coffee or wind down wine. I spent hours researching how to DIY a patio, bought the tools and materials then decided one Friday after work while my fiance was out of town to start clearing the area. I found out after the first stroke of the shovel that this project was way, way more than I could do on my own. Under a thin layer of dirt was an impossible network of 56,030 feet of roots and my sitting-at-a-desk-for-40-hours self that took the occasional yoga class didn't have the strength or ambition to clear the amount of root as deep and as long as we needed to use the 10 to 12 inches of base sand and then level it then put the pavers down. No Thanks. So, I went back to YouTube and discovered these modern miracles. We cleared out the couple of inches of dirt required, rather than the foot or so. We followed the instructions and now we have a lovely, level patio just outside my back door. I imagine these pavers shaved off several hours and eliminated at least six arguments. 10/10 .
Paver Base Panel
The pavers are perfect for making a walkway. Use them as a base and cover with stones or blocks.
Paver base
Don't do much paver work. last time was about 10 years ago. Used the paver base for a walkway and it made it fast and level and looks as professional as if I hired a pro. Getting ready to do another walkway and already bought the these bases. Only complaint is the cost is high for plastic.
Panels helped make the job a pleasant experience
It is taking about 25 of these panels for my patio project, and as many other purchasers mentioned, wish they were not so spendy but if you're looking to save time and want to avoid some serious back pain (by not having to purchase, carry & spread 50 bags of paver sand) These panels are the way to go. They are a strong sturdy, but lightweight panel that are so easy to work with. Makes laying the pavers a fast clean job. Sorry, no photo's
Very reliable!
Using these to build sidewalks on my front porch. Help keeps it sturdy and prevent weeds/grass from growing through the cracks.
Good base
This is the second time I have used this product, Works as advertised. We will now see how it holds up as a base during the ensuing winter. But so far so good.
Innovative product
I decided to try this product because I decided to extend my patio by myself. It saved me a lot of time and money since I didn't have to carry and buy filling material. Very pleased.
A stable base for wall blocks
These panels provide a stable base for wall blocks or pavers. They are much easier to install than loose base and are more resistant to shifting due to settling.
GREAT PRODUCT
Reduced patio installation cost by 30% by not having to remove so much dirt and refill with crush and run.
Great Product!
Bought this product last year and came back bought again this year!!
Great product.
Made our job of laying pavers so much easier. We highly recommend these pave base panels.
Fabulous paver support
I bought this to lay pavers outside our lanai. It keeps weeds from protruding between the pavers. Works like a charm. Will definitely buy again when we put on our fire pit area!
First time user.
Loved it will reccomend it and will definitely use again.
Muddy dog kennel
Paired paver base panel with 12″x12″ gray paver in our two dog kennels that were muddy. Worked like a charm. would definitely use again. A bit expensive though
Awesome back saver
Will not build any walkway or patio without this product
Works great
Works great when installing pavers. Still need to level but eliminate the meed for 5"+ base. I installed the pavers last year and they still gook great!
Time saver
so far so good beats having to dig out 6 to 8 inches
Time Saver!
These are the best! The saved me a lot of time and energy. They are cheaper than using rocks too.
Great product
This is so much easier to use than putting down a layer of limestone as a base.
Great Product, Easy to Use
A novice, we installed an 8 x 7 foot patio with pavers and used this base instead of gravel and weed cloth. It made the job so much easier. Did not have to order online as they sell in the garden centre.
Easy patio install
They are exactly as stated. The were easy to install and the patio was completed in no time by a single person. Make sure you have a sharp knife for trimming. This saved time and me from buying extra base, plus I didn't break my back. I was also able to better level and make adjustments
Brock Pavers are fantastic.
I used nearly 100 of them. They make laying a patio or walkway much easier. NOT for driveway use. Here how I use them (hope its helpful)…. Note: The ones sold at other big box home centers may have slightly different L&W dimensions, so check your measurements. 1. Preparing the ground. Dig down or add dirt as needed to a level of about the thickness of your paver plus 1″ to 1-1/4″ below where you want the top of your pavers and make sure you pound the dirt well with a tamper or compactor. It's OK if it's not perfectly sooth or so long as it is at least level smooth because you are going to put a think layer of sand down next and it will fill in where needed. Use a string and a line level to get it where you want it. For example if your pavers are 2″ thick, make the compacted dirt 3″-31/4″ inches below where you want the top of the pavers in the end. Be sure you have some kind of solid blocking or edging all around the outside perimeter of where your pavers will go. This is needed to hold the everything in pace even after the patio/walkway is complete. If you are raising the level above current grade on any side of the patio/walkway, you may want to use retaining wall blocks for this purpose. 2. All purpose sand (don't use play sand): I find damp sand works well if I need to put more than 1/2″ down, but have some bone dry sand on hand to use for final leveling and filling in small gaps. Use a 2'+ flat and straight board to get the sand as flat as possible and exactly Paver Thickness plus 3/4″ below where you want the top of the pavers to end up. 3. Brock Paverbase. Don't let the Paverbases sit in the hot sun – they will temporarily bend from the heat and make installation a little harder. Carefully lay the foam Brock Paverbase on top of the sand paying attention to how they interlock. Check to make sure the entire surface is flat – no gaps anywhere below the Paverbase – by lightly pressing in the top to see if it goes down. Take it up and add or smooth the sand (adding small amounts of dry sand where and as need) until you have it completely flat and consistent across multiple Paverbases as you go. Sometimes, the final flattening is easiest using the Paverbase edge itself. Once you put down a Paverbase, don't EVER step any where near the edges. I like to put down long wide boards or pieces of plywood over the Paverbases to walk on until I'm ready to lay the pavers themselves. 4. Laying the Pavers: If you done the above steps well, laying the pavers themselves will go very quickly. If you find a dip anywhere where a paver is lower than its neighbors, you can either take up the Paverbase and fix the sand or you can simply add a bit of dry sand on top of the Paverbase under the paver. Make sure the entire underside of the pavers are well supported — if the paver wiggles from end to end or side to side it make crack or break in the next step. Around the edges of your patio or walk you may need to cut pavers to create the edge design you want. 5. Polymeric sand and plate compacting. Do this at a time when it won;t rain for at least 2 or 3 days Buy an appropriate amount of Polymeric Sand (get a bit more than you think you need) and rent a plate compactor from HD. Sweep the polymeric sand into the crack between the pavers. Use the vibrating plate compactor to shake it down. Put more sand down, sweep it in, and vibrate/compact again. Keep repeating until all the cracks between the pavers are filled after compacting. If any pavers break or crack, you may want to pull them up. This is not easy if you put down lots of polymeric sand. The easiest way I have found is to use a masonry drill bit to cut a hole in the paver then use a screw in the hole to pull it up and replace. 6. Sweep. Sweep up as much excess polymeric sand as you can. don;t just sweep it off the pavers onto the lawn or whereever because it will turn into cement where it pays after step 8. 7. Blow. Using a leaf blower or shopvac in reverse, blow off ALL exces left over sand from the surface of the pavers and in between them to provide a nice look – like what good tile grout job should look like. 8. Follow the instruction on the polymeric sand container to lightly wet down the patio walkway — not too much and not too little. This is what turn the polymeric sand into cement-like bonded "grout." Wait a day after final wetting before you go to the next step. 9. Furniture, beer, wine, frozen cocktails, picnic tables, grill – you know what to do with all that — enjoy!!!
I was able to complete a 30 foot 36 inch wide paver path in one day.
It would have taken me 2 days with help without using the panels. Great time saver.
I really like these paver base panels.
They eliminate the need for a compacted base. Just level the area you are paving, but down a layer of sand to fill any low spots, lay the paver base panels over the sand, and lay your pavers. I think it makes the job much easier. Just finished a paver walk from the front of our garage to our backyard gate.
Clay soil
I used it over hardpan clay, black paver base, bluestone slabs, then #10 garden gravel between bluestone slabs.
I rarely write reviews but this product made it so I could do my paver patio by myself.
It helps the leveling process and makes the job so much less labor intensive. I am not a muscle woman so I appreciated not having to haul bags of sand!
This will make a second time I use this product.
1st use a year ago proved above expectation. 2nd use will without a doubt work as expected. I am using it to fix uneven pavers.
Excellent product
easy-to-use, Save money Labor and Back!
It is really good for making my life easier and has my brick laying work looking good.
I have received a lot of complements on my free standing veranda that was possible for me to build by myself using these.
Great product
Durability and easy-to-use
Do the base the right way
Necessary to get the job done right
Worked great with my clay soil
It would with clay soils too. Removed grass and added about 1″ base material to make it easy to compact my ground flat with the proper slope.
First timer, worked great
First time to use this for paver base. Pieces fit together very well, and made a good base for the 16″ x16″ pavers installed on top of this. I would suggest you take the time to understand how these panels fit so you have almost no waste. You can do a rough dry fit before you start cutting to size.
Best product ever
I wish I had seen these when I was creating my grilling station. Great price and easy to cut.
Works as designed and advertised.
I would like to see a larger volume discount.
Excellent Product
Excellent product. Saves much time & money in the install of Paver base, WO need for 6-8″ of traditional base gravel. Holds up longer, too with no odd pavers sinking into the sand leveling bed. Actually the same brand 24″ wide version is a much better value.
Easy to use, great material, survived flooding too.
I'm easy to use. Great material. Survived flooding of the paved area!
Better than rock
Better than crushed base rock!
Clay soil
Much easier to install bricks for a walkway. Didn't have to dig very deep in solid clay. Flat surface. Weed protector. Sand. Paver bases that can be cut with utility knife if needed. Bricks. Then polymeric sand. This is the 3rd path /sidewalk/patio I have done. Not inexpensive but worth the extra cost. Digging solid clay is no fun.
A walkway I'm proud of
This made leveling my paver walk much easier! It truly turned a would-be disaster into a walk I am proud of!
Perfect size for the needs of my 10×10 paver patio project.
Saved about $80 and time without additional digging n dumping going this route versus using the gravel base.
Perfect for my trashcans…. I'm 81 years of age
Perfect size for the needs of my 10×10 paver patio project. Saved about $80 and time without additional digging n dumping going this route versus using the gravel base.
Made installation super fast
Made installation super fast compared to conventional installation.
Best Investment for my back
Easy to use, lightweight and definitely worth the time
Super easy
In the process of adding a patio, I came across this product. We just installed it and we don't know how it's gonna look like a couple of years from now but it cut our workload considerably. We didn't have to buy and move tones of gravels but just these super lightweight panels. Fits easily, cuts easily and makes the work more enjoyable. Also you don't have to dig lots of earth. We finished our 10×12 patio in a couple of hours.
Expensive? Yes. Worth it? Yes.
I replaced my old patio and used these paver bases on top of new sand. They are super easy to use and provide great support for the pavers. The best feature for me is that once they are set down on top of the sand, you can easily walk on them and lay down the pavers without worrying about disturbing the sand. Since my pavers were in a random pattern it was easy to lay the stones on top and I could rearrange them easily by picking them up or even sliding one way or the other to keep straight. There is no way this could be done if just laying directly on sand. Make sure to watch the video on their website to make it easier to know what to do.
These made my project so much easier & accurate than.
More projects in mind for this product.
Easy to install these panels. Definitely less slipping for easier spacing of bricks or squares.
Just be sure to assess how many will be required for your project and ensure that any panels requiring cutting to fit a particular edge are done with appropriate care for cutting instrument using straight edge or guide.
Great product
Great product didn't have to use a lot of base and sand. Very easy to level
Very creative
Keeps final paver surface extremely level with minimal effort.
Great way to speed up laying landscape pavers, rocks, etc.
Can be anchored with spikes. Overlap on edges. Flexible and can trimmed easily.
Really liked the product
saved time, energy and money and my finished product looked just as good as something professionally done
Made it so easy
Made it so easy to create a slope away from the East wall of my house along with 12X12 paver stones and the polymer sand was great! No more water in the basement!
These mats are great!
We added a couple of rows of pavers to a patio that was already done in pavers and these make a huge difference — it was much easier to lay. Just finished the work about 2 weeks ago–waiting to see how they block weeds for next year!!!
Made installing my paver a breeze.
So much easier than the traditional way of installing pavers.
Worked out great
Worked out great for a path around my raised bed garden
What a great platform
What a great platform for our pavers that saved us from buying lots of paver sand. The instructions provided including a short video made it easy to figure out what to do. The interlocking edges provided an easy way to lay it down. Cutting the panels were easy with a box cutter.
The paver panels worked great.
They provided a smooth base for the leveling sand. I to anyone needing a foundation for large slabs of slate or concrete.
Will use again!
I will use again!
Very good product
Very good product to help with paver installations. However, very costly for large projects with no discount for bulk purchases.
Light and easy to use. nice, but you want to get the joints to line up as close as possible.
Way better than hauling around gravel but you definitely want to get the surface below as level as possible. It has some give which is nice, but you want to get the joints to line up as close as possible.
So much easier!
Makes laying the pavers so much easier!
The paver base panels were used as the base to the floor of a small shed.
The base panels were placed atop ground cloth on dirt and grass surface. The area was slightly unlevel but less than 1 inch in all directions. The panels fit together easily and were also easy to trim to desired sizes. Long yard spikes were used to secure the base panels to the ground and each other. Paver edging was then secured atop the base panels using 8-inch plastic spikes. Sand and pavers were then set in-place. This product saved alot of time for setting the pavers.
The paver base panels were used as the base to the floor of a small shed.
Easy to work with. A little pricey maybe, but the results were worth it for my project. I was retrofitting an existing "pavers on sand" sidewalk. I had to remove the pavers and underlying sand to get to an underlying drainage pipe. When I reassembled the paver walk, I wanted it to have better drainage (water will drain through these panels) and look better. So I replaced the sand and crushed gravel with slightly compacted pea gravel and these Base Panels. Much neater, more stable, and the pavers fit together better thanks to the more level and solid underlying Base surface. When you place pavers on the Base, they want to stay put, better than on compacted sand. If only they had been around when I constructed the (much larger) paver patio 10 years ago!
It met my expectations.
It's lightweight, easy to handle and what I like most it allows water to.
This mat is great.
Not sure if it acts as a weed barrier but it works great for my knees.
So easy to use. Light weight made it easy to move.
The idea of hauling rock was overwhelming. These made the job quick and easier
This product made our project go much smoother
Would recommend
The panels made my project easier
Not much work getting the base materials in my back yard, but still work getting hauling all the pavers there. I'm really happy I went with these. We will probably add another project soon.
Excellent product
saved me time and money!
These panels made my project a lot easier.
Highly ! My project was 75 sq. feet of functional space (garden hose etc) against the foundation of a 40-year old house. The soil was very hard and compacted. These panels eliminated additional excavation to add paver base. Following the directions, I excavated enough to account for the just the leveling sand, plus the depth of the panels and the pavers. The laying out of the pavers is much easier: you're kneeling on the panels, instead of trying to avoid disturbing the leveling sand/base (as well as the worry of pets disturbing the area). The foam material is easy on the knees. Setting/sliding the pavers into place is easy on the smooth surface of the panels. The videos available online were helpful. This was a summer 2017 project, so we'll see how it holds up through the freeze-thaw cycle. Overall, these panels saved a lot of work and made the final steps much easier.
Expensive, but I wouldn't do our project any other way.
Once you lay down the base and do some leveling, down go the mats and you don't have to tip toe around anywhere. You just lay down your pavers.. Thumbs up!
Honestly, I was hesitant
with the pricing of this product because it's pretty expensive to cover a small amount of space. However, it was easy to use and made the whole process 3X quicker than it would have been. It also cut down on the manual labor aspect considering how light these are.
Awesome product
Made my install easier and professional looking
Used these panels on my patio
These panels made it easy to do and really work. I had to spend a little time with compacting the ground, fixing the hi and low spots before laying the fabric. It's true the first step is the most important step. Plan to do another project this fall.
I used this product in a patio made from old road pavers.
It went down very quickly and provided a stable base. Cutting with a utility knife was easy. The patio has been in for a month or so and shows no sign of movement. Good product!
Very easy to use
did a 10'x12′ patio.
Have no complaints
it was worth the money!! Just bought more for a new project.
Easy to use panels and better than all the digging.
Once I compacted and leveled the ground the rest was easy. I called the manufacturer with a few questions and was transferred and someone actually answered the phone over the weekend. Now that's customer service.
This product made it easy to do my base.
I did a 160 sq ft project in a weekend the doing my base was not the hardest part! It also made it easy to lay my pavers. I used 2 paver sizes and made it easy to slide and correct the pavers to match the pattern. It's really soft to kneel on too. We are thinking of doing a walkway and adding a fire pit this fall since it was not hard using these panels.
Used these as the base for ~200 sq. ft. patio with 16″ concrete pavers.
I did the project mostly by myself and the panels saved 1-2 weekends of additional digging and transferring hundred of pounds of gravel base. These are extremely lightweight, yet sturdy, and were very easy to use. The one thing is that when you use larger pavers, you must be extremely careful leveling with sand (any uneveness will cause the pavers to rock). After six months (and half of a NJ winter) the patio has stayed firmly in place and still feels very solid.
VERY happy with these. Absolutely worth the cost. Save time and energy! Less digging!
We transformed out backyard with three projects and used the Brock PaverBase in each install. These allowed us to do the work entirely with only my wife and I doing the work. We could not be happier with the results. We were careful to do the base prep as instructed. We used crusher run and pipes to screed the sand to perfect level. Add a PaverBase, lay your pavers, install restraints, poly sand and DONE. The patio and sidewalk are absolutely as solid as poured concrete. I had such confidence that I used them to build a foundation for a "kit" fireplace as well. In this instance I did create a larger depth sub base and packed the substrate a lot. Was extremely careful to check level, I am convinced that the engineering that helps distribute the weight is pivotal to the success of this project as well. Our fireplace has not settled in the slightest. Our last project was a sidewalk and once again these created a super foundation for our pavers. Because we were going up a slight slope I am also convinced these helped create a perfect transition from bottom to top. One thing I did learn: Don't use a very heavy vibrating compactor in conjunction with these to settle your ploy sand like all the videos show to do. Hand tamp your pavers and back fill with needed poly. LOVE LOVE LOVE this product.
The Brock Paver Base Panels are simply marvelous!
They made my DIY patio project very clean and helped the bricks lay very tight! Because they are a specific size and fit together like puzzle pieces, they made planning the project much easier so that I knew how many bricks would fit in the 20×36″ area of each panel. I have nothing but high praise for this product!
20 x 24 brick patio
I purchased six boxes of these paver base panels for a 20 x 24 brick patio based on an article in Home Handyman. The old patio had been installed incorrectly so I removed all of the bricks and cleaned them then re-installed them over these panels after packing and leveling the sand. The panels help provide a firm base to walk on. There is some tendency for the panels to move a bit so placing a brick or two on them until you're ready to install the pavers helps. Making sure the locking grooves are clear of sand also helps. I recommend this product because it speeds up installing a patio dramatically.
Installed in late 2017 northeast Ohio.
Easy to use. Little pricey for what it is. Installed in late 2017 northeast Ohio. Saved us thousands since we did not commission a contractor. It meets our expectations … going with phase 2 in the next couple weeks. Follow the install videos and your gut… You will be good. Don't be scared. https://youtu.be/Mv92RMD-oJ4
I used these panels for installing my walkway.
They made it so easy to get the bricks perfectly even. And, four years later, despite our cold Colorado winters and heavy spring rains, not a single brick is out of place. The stuff is so much lighter than the bags of sand it replaces. Now we're planning on doing our patio with these panels. So much better than the old fashioned, back breaking method.
Clay soil project
We had a small triangle area next to the house that needed to be leveled and set with patio pavers. The soil is very hard clay, so rather than remove it to add stone, we decided to use it as a base for these paver panels. We used some same for leveling. The patio is beautiful and solid. So glad we decided not to remove the clay.
Just installed 230+ sq ft of the paver base with about 150 sq ft left to do and it worked great!
so far….we'll have to see how it does over the coming winter with freezing and thawing….
Very easy to install
it makes doing paver job so much faster and easier
Provided excellent stable base for pavers
saved so much time! Easy to cut and adjust as needed. It was convenient to be able to walk around on the panels to adjust the bricks as needed. These are great but they are definitely expensive. You're paying for the convenience and time savings.
Used these for a 300 sq ft patio.
First time using these. Wasn't sure what to expect and was very happy with the result. I did have to level a few areas by placing extra sand either underneath the Brock or on top, which was easier. Patio looks great and highly recommend
Just finished with these on a 650 sq ft patio.
Yes it was expensive but if you saw the project site you'd understand why I didn't want to excavate and fill. These paver base panels are light, easy to handle and easy to cut with a utility knife. They are made from expanded polypropylene and seem really durable. They are much, much more heavy duty than polystyrene (styrofoam). These are more expensive but if you're willing to pay then you'll have a much easier time installing your pavers – especially if your project site doesn't permit excavation equipment.
So many advantages to using this product.
Too many to list but time savings, ease of use and versatile are top of mind. Well worth it.
The paver base is expensive but it is well worth it
My husband laid over 1400 sq. ft. of pavers at our last house and he is now doing about that at our new house. He didn't use paver base the first time and is using it this time. He said it makes laying the pavers so much easier. He would never lay pavers again without the paver base.
Worked well, saved a bunch of work
and allows the patio to be removed easier if there are future modifications to the back yard.
So far it has met expectations and saved us a ton of work
on not hauling, dumping, and tamping gravel. We will see how it holds up but so far we are happy. Not to mention, we are amateurs so if it fails it is not NECESSARILY the product's fault. LOL!
I have installed three paths
in my front and back yards this year and these paver base panels have saved me a ton of digging. I have only had to dig down 3″ for these great time and work saving panels. Once I tamp the ground down flat and put a half inch of sand down and screed it flat, these panels go on top of the sand and then I can put my cement pavers or bricks on top of the pavers and fill in the spaces in between the pavers with jointing sand and lightly water it in for a beautiful paved walkway. What a lifesaver these panels are.
Great product.
I dug out my patio area first. Then I put down the leveling sand and the Brock boards down. The sand, Brock boards and the actual pavers only took my 2 hours to complete ( 10Ft X 9Ft ) . The item seems pricey, but don't forgot you aren't using any crushed gravel at all. Plus you save so much time and effort but not having to dig extra. This is the sure fire way to build patios now.
I will never do another hardscaping job without these.
They are easy to cut and are worth every penny! I used them under rock in my outdoor shower at the beach as they are a great weed blocker. Nancy
Job less stressful
simply put these panels make the job less stressful easier to do and cut the cost
I was somewhat skeptical about these when I first saw them, but they are amazing.
Once they are in place and level it makes placing the pavers super quick and simple. The patio area feels solid and looks great. I used for a 3' walkway around the hot tub so not heavy usage, not sure about heavier use
Helped immensely.
Worth the money if you have no truck to haul away dirt/load in tons of gravel. Less Sand was needed as well, just an inch layer. Be very thorough on the grade of the dirt 1/4″ per foot to support freeze thaw and drainage. Can probably get away with 1/8″ per foot if building away from home foundation.
I think they work great, had no problems
Sidewalk had great reviews from everyone looks very nice job was hard enough this cut out a lot of unnecessary work if you use these pad very pleased.
It's been 3 yrs. since I used these to put down a walkway with 16 in. blocks (2 blocks wide).
I live in central Il. and the climate runs the gammit. Extreme heat, extreme cold, drought, heavy rain, snow and my walkway is as level and solid as the day I installed it. I can't believe it either. I used to do flatwork and believe me, there is no need to go "old school" with 6 in. depth with roadpack gravel, sand and packing. This really surprised me. Save your back and money and get these. You'll be glad you did.
These paver base panels are great!
I have previously built a paver patio and sidewalk using the compacted aggregate, leveling sand, and pavers process. These panels eliminate the compacted aggregate and go on top of the leveling sand. Much easier! And, you don't have to worry about disturbing the leveling sand when placing the pavers. The current project went very quickly and is the best paver work I have ever done. Everything is even and level. I highly recommend.
Wow! What a difference!!!
Removed an old paver patio that had buckled and was in bad shape. Took a fraction of material than would normally take in underlayment, then the matts and 650 sq ft paver patio laid in one afternoon!!! Highly recommend!!!!
I did a large paver project and these panels made the project so much faster.
I had a lot of different angles so I was able to bang it out. Less to haul, less mess, all in all I would use these again in a heart beat
Just moved into a new house and was doing a patio extension.
Historically, I spent numerous hours digging to lay and pack all the base. These SAVED so much time and back pain! I would definitely recommend them to anyone doing any project with pavers!
If you got time to do it again, you have time to do it right.
The Product is a little on the high side when it comes too price but it is definitely a quality product. I put these over pea gravel and paver sand…. I should say before this project I had paver stones directly on top of dirt. No longer do I have uneven stones but a level professional looking and soft in the feet patio to enjoy.
This is so easy to use!
We can't tell you how long it holds up over time yet, but we love the quick process of creating a patio.
Second project I used this on
Works well saves money and time. They have a 24 inch wide version that works well
So far so good.
I'll no more after a couple of years whether this is a good substitute for gravel. It certainly was easier.
These were fairly easy to install
I've never installed pavers with gravel so I can't compare. You do have to make sure the ground is like 95% level or you'll find yourself going back, lifting up the panel and adding or removing dirt. Yeah, they're expensive but compared to buying dozens of bags of gravel you end up saving money and your back.
I purchased two full cases of these panels.
I spent a good deal of time leveling my surface prior to panel installation with a 2″ sand bed. The panels had to have bricks put on them to keep them from blowing away. I also completed a walkway that I completed using the old fashioned method of a 4″ sand bed. For me, the walkway was much quicker and yielded the same results. I am still working sand into the area I used the panels to get that solid feel. The walkway, is finished and rock solid. If I had to do it again, I would not use the panels. If I had trouble leveling my project in the sand bed, these panels could remedy that.
Easy install
Price is the only con. Tip: install them in a way where you can lay one panel on top of the other instead of having to lift an edge and having to slide the next panel in under and possibly disturbing your screeded sand. All in all it was worth it. Total patio size 224sq foot. The test of time will determine if it was really worth it.
Perfect for perfectionists (Porcelain project)
I installed this under 24"x24" porcelain pavers. Requires careful attention to make subgrade and sand layer absolutely level. (I found that 1/2" square wood sticks were much easier for screening sand that round dowels.). All in all, I'd use the panels again because my patio would have required a ton of gravel going the conventional route.
Easy to cut with a knife
But had to make sure the base was level before you put down otherwise you had a low spot, and once they are all laid down and the brick on top of it, it is difficult to pull them up and fix the low spot, so make sure all is level before the brick go down. But it did go quick once everything was down. I did another section without and this was easier to do.
Only lost a star because of the price.
Way too expensive in my opinion, however, these bases made my DIY paver project SO MUCH EASIER. We have a cement slab we wanted to cover and extend. The original plan was to only use the bases for the extension, but after laying pavers just in sand that was put over the cement slab, we found spacing was more difficult, some pavers would rock when stepped on, and I was constantly "fixing" the sand before laying every single stone. Finally gave up, picked up the pavers we had lain, and spent the money for more paver base panels to cover the slab. Best decision. The pavers sit perfectly level, tight together, laid a heck of a lot faster, and the patio is lovely. It was more than we wanted to spend, but we found the extra cost to be worth it with the final results.
Rock garden.
I used the product to help build a rock garden. It was easy to cut to size, so far I have not seen any weeds in the rock garden which was established about 3 weeks ago. I also used it to support some stepping stones in another one of the garden plots.
11′ x 4′ walkway
Used these to successfully install a small 11′ x 4′ walkway. It probably halved the amount of dig…
A fast alternative for people
Especially older people, who would have a difficult time carrying heavy bags of paver pebbles up a steep hill. Easy to place pavers on in straight lines.
I'm not a professional but a 70 year young women
I believe it did help allow me to make my patio easier. I'm not a professional but a 70 year young women and it allowed me to do less digging.
Great time saver
Great time saver though instructions did not mention placing sand under pavers. I found doing so to be helpful.Great product. Just installed this weekend so do not know about longevity in hot South Florida but so far so good.
VeryEasy to Work With
Moved into a new retirement home and never put down brick in my life. Found PaverBase and after reviewing videos provided by the company decided to give it a try. The hardest part of the project was floating the base sand to be level with the appropriate pitch for water runoff. The platform I installed is 4′ x 6′ and it took me 7 hours start to finish. The only problem was PaverBase for my size project suggested 3 bags of leveling sand. I needed 6 for a 2″ base. This was so much better than trying to put in a concrete underlay. They were easy to cut and stayed in place so you could walk/kneel on them while working.
I re-did my backyard patio last summer
Poor gutters and neglect from previous owners had led to lots of unevenness to my old stone patio. I don't know how much effort or cost these saved me in the end, but I'm doing a walkway this summer and using them again. Once I got in a rhythm these were pretty easy to work with. Just level the soil pretty reasonably (I used a manual compactor), then line up some rods and fill the area in between with sand and level with a 2×4, and finally lay these before adding the pavers and joint sand. Hopefully the pictures kind of show how this progressed.
Limited access to the backyard area
These panels save so much time and heavy lifting. While they cost more up front, they save so much down the road. They are stable and reliable and make it easy to set up the pathway or patio. The directions are very easy to understand and follow. Their website is also very helpful.
Landscaping 101
This was an essential piece for my project, not only did it lower the overall price of the project it sped up the process by at least 2 hours… it will also help prevent weeds and grass from growing up on the rocks. Over all it was very easy and cheap to install..
Good Option
Wanted a do-it-yourself project without a lot of heavy lifting, so tried these out in lieu of digging 6″ of dirt out, refilling with sand and pavers. It was easier/lighter to handle than working with lots of dirt and sand. I still used sand under the weed barrier before I put the pavers down and again as I was setting the paver stones on top of the paver panels. Still a recent project, but so far holding up well.
Made Patio an Easy install
Having spent some time researching this product, I decided it was worth trying on a small walkway. That project went well so I made the investment to do a 12′ x 16′ patio. After figuring out what it would have cost in labor and extra materials, the high cost of of these paver base panels seemed worth it. It took awhile to get the area graded just right, but there was no serious digging involved. In less than 5 hours, two 50+ women had this patio knocked out. And that included going back to the store to get more paver sand. The panels are true to size and interlocked very easily. FYI: it took 30 bags of paver sand to complete the patio. I would highly recommend using this product to anyone who wants to do their own patio without involving a major digging project.
New Product works as advertised
An area with many tree roots was previously unusable for a patio space. Used this product and it works as advertised, easy install went well. Some caveats, though – the available information on how best to use the product is limited. You still have to dig down far enough to put at least a 1″ layer of base material, then to accommodate the height of bot these panels and the pavers. I elected to go shallower and the pavers are now about 1″ above the grass level — something I knew and accepted — but not everyone may like this. Also they are over-priced — and to do a proper install you have to sacrifice quite a few around the edges so that you can place your stop-edges on top of the panels, not under them, and trim off the excess. For professionals, I doubt this gives much cost advantage even considering the smaller amount of dirt to be moved and the faster laying. For a homeowner, however, they are a really beneficial aid. For value that matches cost though, they should be priced at about one half the current cost. No problems with the quality and surprisingly good robustness of the product.
Faster laying pavers with these
We bought these to lay on top of the sand base we already have to lay pavers. Wow it was way less work with these and easier to level the pavers too. Our backyard project came out awesome.
Need help? Have a question?
Hello, I'm Tim Newton – Call me anytime with questions or to discuss your PaverBase project: 813-431-8259.